Sew-in weaves versus micro-links. Which hair extension method is better?
We waded into the discussion to provide our take on the micro-links versus sew-in weaves debate.
Jan 10, 2023 |  SL Raw Virgin Hair
Sew-in weaves or micro-link hair extensions? Is one better than the other and which should you choose?
Let's do a quick run-through of these two extremely popular hair extension methods to see which one would be ideal for you.
What are sew-in weaves?
A sew-in weave is a hair extension technique where the wefted extensions are sewn into your natural hair.
You'll create cornrow braids – see braided tracks like our lady Bee below – and the extension sewn down onto these tracks.
Depending on the look you're going for or your stylist's preferences, the braid style can be more or less elaborate than Bey's.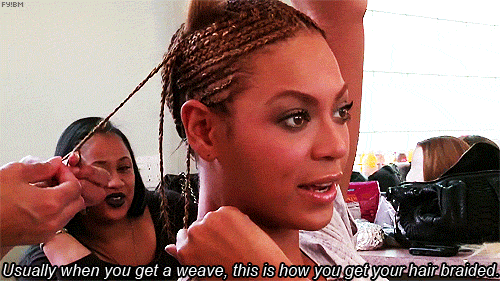 The sew-in technique is often considered a better alternative to glue-ins. That's because if you're not careful, you could negatively affect your hair with a poorly done glue-in job.  
The sew-in style is a great one for transitioners, and it also works well to give your hair a break from constant styling (protective styling), and to get more length and volume. 
---
Pros of Sew-ins
One of the biggest advantages of sew-in weaves is the protective styling it offers.
The technique is a great option for long-term protective styling to keep your natural hair covered while you can still enjoy awesome styles daily.  
Here are a few other benefits we love about sew-in weaves:
Secure. It won't take off flying like a poorly installed wig if you get on a roller coaster. Or if you decide to get a little excited on the dance floor at brunch.
Cost-effective. It's a long-term style (lasting 2-3 months), so you won't need to consider reinstalls or maintenance services as early as some other styles. It is also one of the styles on the lower end of the cost spectrum for hair extensions.
Easy to style. It's easy to manage and style on a daily basis.
Versatile.

Sew-in wefts

come in a variety of textures and colors. Any hair texture can be used – no matter your hair texture or type. And it's good for short hair too.

 

Convenient. Wake up and go without worrying too much about wig installation. It's hard to have a bad hair day once you secure your hair properly at night.

 
Cons of Sew-ins
Limitation of styling options. With a sew-in, it's difficult to do a high ponytail unless you're wearing a headband or scarf around the base of the hair. Or you forego the protective aspect of the style and do a leave-out (sections of your hair not braided).
Limited access to scalp. Because your hair is braided down and the wefts are sewn to your hair, it makes it more challenging to access and care for your scalp. It's even more of a challenge if you use a hair mesh over the braids.
But … the key to a good sew-in is learning to care for your hair and scalp. 
Remember, access to your scalp is limited. So, you want to ensure that your hair and scalp are healthy before you install the extensions and when you do remove the sew-ins. You'll need to pay more attention to what you do and the products you use to keep the scalp clean and maintain your natural hair while in the extensions. These tips can help.
---
What is micro-link hair extension?
Microlink is a hair extension technique that adds I-tip extensions to your hair. Your stylist will attach each I-tip to small sections of your hair at a time. This leaves for a unique and seamless blend of extension with your natural hair. 
We have a great post on all things microlink hair extension here that goes in-depth about the technique.
Pros of Micro-links
The main reason why most people love a good I-tip extension install is the fact that it can look just like your natural hair when done. 
Here are a few other benefits of this method:
Easy access to the scalp. The technique allows you access to maintain your scalp and hair better than a sew-in would. Just be careful of the products you use so as not to cause the microbeads to become loose or slip.

 

Seamless blending. Once you find an I-tip extension that matches your hair texture or hair type, it's easy to blend the extensions in with your own hair.

 

Versatile. The method works for all hair types. Once you can find I-tips that closely match your hair type, you're in business.
Volume and length. You choose how much volume or length you want to achieve. This then impacts how many I-tips you'll need to order to get your desired style.

 
Cons of Micro-links
Your hair is left out. Because of the method used to attach the install, your hair is left exposed. So, you'll need to be extra careful with harsh chemicals, heat usage, and overall maintenance of your hair. So, it's not an ideal style if your goal is better protection.
Must match hair. The extension should match your hair type or texture for best results. You may need to search a bit to find I-tips extensions online that suit your styling needs.

 

On the pricier side. Micro-links is one of the more expensive hair styling methods. But done well, you'll thoroughly enjoy the end results.

 

Maintenance. You'll need ongoing maintenance from your stylist, especially for push-up service if you want the style to last.

 
---
The verdict: which hair extension method is better?
In the debate of micro-links versus sew-ins, both methods offer something to love. They are both great for adding length and volume.
One key benefit of a sew-in is your hair will be completely tucked away. This contrasts with micro link extensions where your hair is exposed through the entire install. However, you have way more access to your scalp with micro-links. This allows for better wash days and provides access to the scalp for any treatments that you need to apply directly to the scalp.
In the end, it's not a matter of which method is better. It comes down to what you want to achieve. Each style serves a different purpose, and they do their respective jobs so very well. You'll look and feel awesome in either style. 
So, how do you choose? 
If you want a deeply protective style where your hair is completely tucked away, then grab your sew-in wefts and head on over to your stylist.
Think you'd prefer to have more access to your scalp and a seamless install method? Then grab our Kinky Curly I-tips (voted Best in Black Beauty by Essence) and get ready for extra volume and length with the micro-link hair extension technique. 
Written by:
Yvette J Haughton