6 Easy Hair Extensions to Put In Yourself (Best Weaves for Self-Installation)
Here are our top 6 easy hair extensions you can put in yourself.
Jul 17, 2022 |  SL Raw Virgin Hair
We love a good hair extension for its instant length and volume. But we aren't always up for sitting half a day or more in a stylist's chair to get the best hairstyle. Instead, we just want a simple, easy to install hair extension that we can put in ourselves. 
You know, get up, put it in, go. 
For that, you need the easiest hair extensions to put in yourself. 
Well, here are our recommendations for the 6 best weaves for self-installation to get you started.
The easiest hair extensions to put in yourself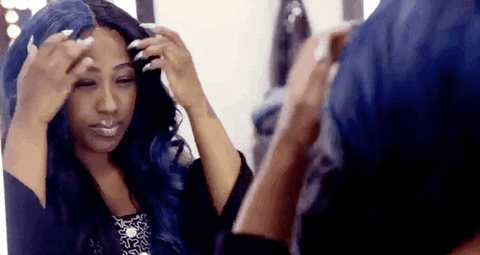 You can install a gorgeous u-part wig at home and get a new look in under 30 minutes.
A u-part wig is designed with a clip to attach the weave to your natural hair. So, it requires no sewing or gluing to get the look you desire. 
For the u-part, you'll leave out a similarly shaped section of hair in the middle of your head to get a middle-part, and to the sides. Braid the rest of the hair flat, including a section specifically around the leave out to clip in the extensions. 
Once the u-part weave is installed, use your natural hair to cover where the extension is added to your hair. Then, depending on the type and texture of the hair extension used, you may go ahead and flat iron to blend your natural hair to the weave. Don't forget your heat protectant when you do.
---
---
One of the fastest ways to get volume and length (and even color) is a clip-in hair extension. These are hair extensions with clips attached to the base/root. So, all you need to do is clip the hair extension pieces to your hair. And in less than 15 minutes, you're good to go. Instant gratification!
There are two main types of clip-ins. 
Clip-in wefts
These clip-in extensions can be added throughout the hair. Simply choose where in the hair you want to add volume and length, and insert the clip-ins there. You can choose to do a few or go throughout your hair, like you would when laying tracks or wefted hair for a sew-in.
You'll need to match the extension to your hair type for a seamless blend. 
Clip-in Bangs
If you want a bang, a clip-in bang hair extension is a great option. You can find fringe bangs and side-swept bangs as clip-in extensions so no need for any fancy installation techniques. It's also perfect if you don't want to commit to a chop long-term.
Tape-ins are pre-taped extensions that are either glued or taped together on either side of sections of your hair at a time. These are not as easy to install as they need glue and aligning the tape-ins with your roots. Plus, the take-down process needs glue remover. And of course, you have to remember that anything involving glue to the hair is potentially damaging if not done properly.
The easier and safer alternative to the tape-in would be clip-ins as you won't need to worry about gluing and precision placement. If you have the time, you could definitely try a tape-in extension. But if you prefer something quick and easy, go for the clip-in hair extensions.
BUY DIY CLIP-IN STRAIGHT PONYTAIL 
Wrap around ponytail extension/clip-in ponytail is a simple hairpiece that can be turned into an awesome hair statement. It's a classy and quick weave you can install yourself to easily transform your look.
If you get one like the SL Raw Virgin Hair ponytail, the design allows you to secure it to your hair with the clip and then hide the clip with the extension piece left out for that purpose. You can wear it as a high or low ponytail and even wrap it up into a bun.
Closure wigs is an easy beginner's wig style. The installation process is simple, and you get a quick hairstyle upgrade done at home.
The lace closure is often 4x4 and in some cases 5x5 that can be placed on the front portion of your hairpiece or wig. It's an easy way to ensure your hair looks blended at the hairline. It's often used as part of a sew-in weave. But it can be constructed into wigs or found as part of fit-and-go wig styles that you can easily install at home.  
                             BUY DIY FIT 'N' GO KINKY STRAIGHT WIG 
At SL Raw Virgin Hair, we are always innovating to try and give our customers what they want. That's why we came out with a line of fit-and-go wigs that make DIY wig installs a breeze. 
This is a line of glueless lace wigs to help women like you quickly style your look and go. No glue required. No sewing.
They are one of the ultimate easy to install hair extensions that you can do yourself at home. 
---
---
As you get adept at installing your own weaves, you could consider doing your own sew-in. Not as quick as the other DIY hair install methods, but you can definitely do this one yourself as well. You'll need to braid your hair into cornrows. Then using a hair needle and hair thread, attach weft bundles to your braided hair. 
Caring for your weaves at home
When you invest in 100% human hair extensions, you need to ensure that you can get the most out of your weaves. For easy DIY install extensions, they can often be worn multiple times before you need to shampoo and condition to maintain the extension. If you wear them overnight, make sure to wrap them up and cover with a satin bonnet for maximum protection. 
When not in use, store them flat and in a satin or silk storage container to prevent knots and tangles so you can easily pick up and go when ready. 
Which DIY weave will you choose?
Now that you know which weaves are easy to install, what are you waiting on? 
Go find your favorite hair extension and get yourself a weave.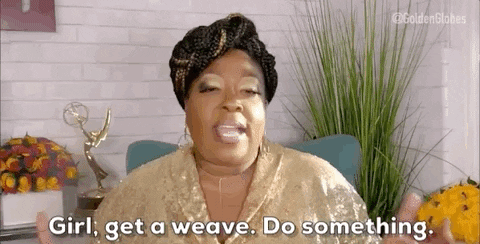 Written by:
Yvette J Haughton