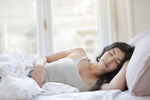 Should you Sleep with your Lace Wig?
Happy Labor Day you all, but I want to ask the million dollar question that everyone wants to know,"Can you sleep in your custom wig unit?"
How many of you have had a special dinner with that special someone and you decided you wanted to end the night off with a special treat, and after that special treat you wanted to go to sleep looking fabulous; but then you ask yourself, "Do I really want to take my Lace wig off or do I want to keep it on and wake up semi cute!" Well I'm here to tell you that sleeping with your wig unit is a No Go..
 Time and time again I get asked by my clients if they can sleep with their wig unit and I always tell them that it's best to take your wig off at night to be able to get  good blood circulation, and to eliminate tension around the head perimeter, and just to let your hair breathe and to preserve the wig and it's longevity.
Yes I know you may be a little disappointed at my answer but you must understand that I'm here to help. Wearing wigs can be a gift and curse if you allow it to be.
The full benefit of wearing wigs is to use as a protective style while you treat and train your real hair underneath. But women around the world feels otherwise.
I asked a few of my clients their thoughts and they surprisedly had a-lot to say. One client said that she is currently dating someone and it has only been a few months and she doesn't feel 100% comfortable taking her wig off in front of him.
Client number two said that she loves wearing wigs and she totally agrees that it should be used as a protective style, but her husband doesn't want to see her Celie braids. (Mouth drop!!)
Share with me below your thoughts on why you wear wigs and whats the craziest thing your mate has told you.